Doing Business with the Government
Only the

best-prepared

,

best-connected

, and

best-performing

companies in virtually every sector are expanding current business and also winning new contracts.
They let their less-prepared competitors worry about fewer procurements, more competitors, and fierce head-to-head competitive pressures seen today.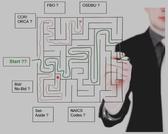 What's wrong with this picture?
CCSI's Government Contracting Solutions -- Helping You Navigate the Procurement Maze
CCSI-Corporate Consulting Services, Inc., helps experienced, emerging, and start-up companies increase their success rate in becoming competitive, winning players in the complex government contracts space.

We are a business strategy, training, and consulting/coaching firm, focused on helping clients pursue and WIN more government contracts in less time. CCSI's clients include contractor companies of all revenue levels, and personnel from CXO to senior and junior employees.


Our associates and consultants each have 30-40 years of broad experience in one or more of the following skill sets:


Oral presentation coaches


Executive and Red Team reviewers


Business development strategy developers


Special document consultants for specific applications (web site, executive summary and presentation packages for potential investors, business cards, and resumes for new jobs and career change).


Clients that participate in government contracting small-business categories and set-asides include SDVOSB-Service-disabled Veteran Owned Small Businesses, SBA 8a-certified, SDB-Small Disadvantaged Business, WOSB-Woman-owned Small Businesses, EDWOSB-Economically-Disadvantaged Woman-owned Small Businesses, and HUB Zone (Historically Underutilized Business) Businesses, and Small Business Enterprises.





Defense, DHS & Civilian Agencies
---


Contact us today at gov_plan@ccsincorp.com for team and individual proposal training, oral presentation skill development, Red-team reviewers for your critical bids, and business development strategies.


---



Contact CCSI, Oakton, VA: rbgahagan@ccsincorp.com, or call 703-938-1002
www.ccsincorp.com
© 2010 - 2017 CCSI - Corporate Consulting Services, Inc.
Web Hosting powered by Network Solutions®